Stand Up For Freedom – Teachings On Liberty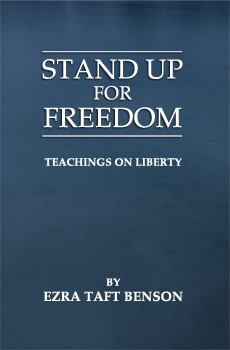 Stand Up for Freedom is a compilation of essential teachings on liberty by Ezra Taft Benson, prophet, leader, statesman. With this book one can gain an understanding of the principles of freedom and the proper role of government, based on the gospel of Jesus Christ. (205 pages)
Chapters: (1) My People Are Destroyed for Lack of Knowledge, (2) A Plea to Strengthen Our Families, (3) The Book of Mormon Is the Word of God, (4) Beware of Pride, (5) The Twelfth Article of Faith, (6) The Constitution: A Heavenly Banner, (7) Stand Up For Freedom, (8) The Proper Role of Government, (9) Civic Standards for the Faithful Saints, (10) United States Foreign Policy, (11) Freedom and Free Enterprise, (12) Our Immediate Responsibility, (13) Christ and the Constitution, (14) Be Not Deceived, (15) Watchman, Warn The Wicked, (16) Not Commanded in All Things, (17) Righteousness Exalteth a Nation, (18) God, Family, Country, (19) I Testify
Resources
Are you just getting started in your education on the principles of Liberty? Interested in learning more from a Gospel perspective, or interested in resources you can share with others?
Here are some items we recommend:
The Proper Role of Government
– Available in HTML, YouTube, MP3.
Stand Up For Freedom – Teachings on Liberty
Click here for the book containing many talks on Liberty by Ezra Taft Benson.
Other Resources
Want to learn what the prophets have taught about the Constitution and Freedom? Visit LatterdayConservative.com – a website created by a founding member of the Ezra Taft Benson Society. This website also features audio downloads, quotes and talks by Ezra Taft Benson.